Crystal Land Slots Casino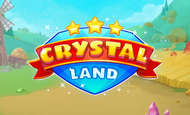 Crystal Land is a 7-reels UK Casino Slots Game with an RTP of 95.2%. Combination of 6 or more symbols generates 1 Ruby Wild symbol on the game field.
Top Slots: Joker's Jewels | Fluffy Favourites Casino | King Kong Cash | Chilli Heat Slot | Ted Casino

Crystal Land Casino Slots
RTP

95.2%

Features

Level Up, Multiplier, Wild

Developer

Playson

Reels

7 Reels

Paylines
 
Crystal Land Casino Slots

Crystal Land Casino Slots
The Crystal Land slot by Playson Developers is a 7 reel, 7 row colourful video slot with a 95.2% return to player rate and plenty of exciting bonus features available including multipliers, added wild symbols and destroying bombs! Late Casino is one of the best to enjoy the Crystal Land slot with our 500 Free Spins welcome offer and over 600 casino slots to explore!
Crystal Land Casino Slots Gameplay
The Crystal Land slot is a development by popular gaming company Playson, with a more advanced reel to stand out from traditional casino slot reels. Set with a unique theme of crystals and deferring away from the casino classic reel symbols and layouts, the Crystal Land slot is highly contemporary and appealing to many players looking for a unique, colourful and exciting slot game with plenty of bonus features up for grabs!
As a cluster pays game, the Crystal Land slot definitely has a unique appearance and breaks boundaries of average casino slots with plenty of reels and rows available to land a winning wild symbol or bonus feature when playing the Crystal Land slot! There is a fair minimum stake of £0.20 and a high maximum of £100 per spin, offering a fairly wide betting range for a personalised slot play, appealing to beginners looking for an easy slot game or those looking to place higher bets for bigger payouts.
With multipliers available up to 9x your original stake, there is high jackpot potential here if the original stake is fairly high, like many casino slotss, the Crystal Land slot can offer high multipliers if players are willing to place higher bets of up to £100. With a theme of gemstones and crystals, the Crystal Land slot by Playson is certainly eye-catching and engaging for players with plenty of variation across wild symbols to explore for fun. To land a winning combination, players must place 5 or more of the same crystal in a cluster, which is easily scoped from the high range of 7 reels and 7 rows available. The Crystal Land slot is optimised across all devices to be enjoyed anywhere at any time through mobile, tablet and desktop devices here at this UK online casino slots.
The Crystal Land slot is a cluster play slot, meaning it is not your average reel appearance. Although it can appear overwhelming due to the high reel count of 7 reels and 7 rows, the Crystal Land slot is definitely not as scary as it seems. As a cluster theme, the Crystal Land slot makes it clear when a winning combinations placed through explosion graphics and the winning symbols being blown off the reel, making a clear scope of winning combinations to appeal to players of all abilities and make for a satisfying, easily-read slot game.
A great slot for those looking for a new experience, unique and different from your average casino slot classic layout, with plenty of colourful graphics across the screen for an engaging UK slot here at this online casino slots. Playson are famous for their unique themes and well-developed graphics and the Crystal Land slot is no exception to these traits, with successful optimisation to be compatible to all mobile, tablet and desktop devices for a personalised casino wherever you go!
Crystal Land Casino Slots Bonus Features
One of the first things you will notice when playing the Crystal Land slot is the blocked reels at the top end of the slot layout. These become open through every symbol combination win, opening up the full 7 reels and 7 rows throughout the game for a progressive slot game. For added fun, players can work to unlock the higher reels for an expanded slot game layout, adding yet another unique trait to the Crystal Land slot developed by Playson!
The Progression Metre
Beside your main reel base game, you will notice a metre icon which will fill as you play the game. The progressive metre will fill a little more each time you win a combination that includes a wild, ruby symbol or a potion bottle. When the progression metre is filled, players level up when playing the Crystal Land slot and receive real cash pay outs which double up each level, making high jackpot potential and an added extra incentive when enjoying the Crystal Land slot.
Ruby Wild Symbols
The bright red Ruby Wild symbols may be fitting to the gemstone theme, but certainly can't be and should not be missed when playing the Crystal Land slot. When players successfully land a 6 symbol cluster combination across the 7x7 reel, they will be awarded a Ruby Wild symbol which acts as a bomb to destroy low paying symbols of up to two symbols beside each other, to make room for extra special bonus symbols and an enhanced reel with increased chances of winning that high jackpot.
The Crystal Land Bonus Feature
Once the locked upper reels are successfully unlocked throughout the Crystal Land slot, the bonus feature will be activated to enjoy. The Crystal Land slot Bonus Feature awards exciting multiplier bonuses of up to 9x your original stake, shown in the form of star icons which are collected through the game to increase the multiplier amount! The bonus feature acts to increase the pay out amount and can offer great jackpot returns if the original stake is towards the higher maximum amount.
Crystal Land Developer - Playson
Some may find the Crystal Land slot quite daunting and complex, although once the reel is understood, it certainly makes an enjoyable slot at this online casino! The bright, engaging gemstone theme makes a fun and exciting slot, with multiplier available to attract players who love cash pay outs! Playson are no stranger to a unique theme, although also have plenty of classic casino inspired UK slots available to explore for those who favour more traditional, simplified reels. Be sure to check out other Playson slot titles such as Alice in Wonderslots and Viking Gods: Thor and Loki for a different slot layout with similar exciting bonus features to enjoy, here at LateCasino.com!