Online casino slots are more popular now than they've ever been, and there's heaps of different developers with extensive catalogues to dip into and test the waters. In this blog, we're taking a look at Malta-based studio, Playson. While they might not have the largest catalogue of all the developers we offer here at Late Casino, they're certainly making waves with their 50 game strong portfolio. While it's hard to pick just 5, we had the enviable task of playing them all so we could recommend the top 5 Playson UK slots casino games you can play right here. If you like yor games with a dash of history, a sprinkle of retro gaming and the chance to stack up some serious wins, then Playson is the developer for you. Let's dive in!
Burning Wins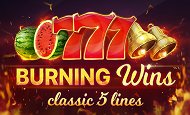 Looking for something a little old-school that's guaranteed to set your world on fire? Well, look no further because in at number 5 comes Playson's Burning Wins Casino Slot. Based on a traditional fruity, they're not messing about with the name, these wins truly are fiery hot. And you'll see flames throughout, especially with those lucky 7s, wrapped in gorgeous flame graphics. Let's take a look at the statistics rundown: 3 reels, 3 rows, 5 paylines, min bet: 10p Max bet: £100 and RTP 96.21%. Playson have clearly spent a lot of time lovingly recreating the bold, primary colour visuals you see in traditional fruit machines, as the graphics are really gorgeous - featuring lemons, cherries and those all-important lucky 7s! We're light on the added extras here, but we suppose that's pretty much standard for a game that's based on an old-school fruity. But the gameplay is fast-paced and fun and it really brings you back to basics when it comes to playing slots, and we find that really refreshing. Plus, it's super volatile so you're going to win some jackpots juicier than those fruity graphics.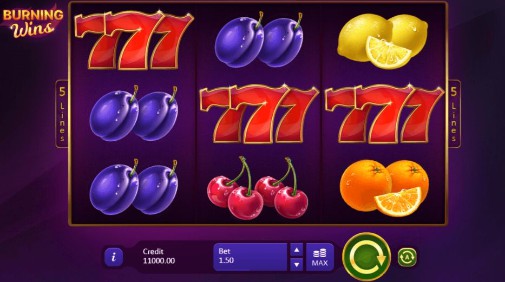 Thunder Reels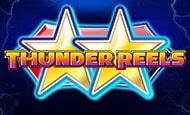 We did say that  Playson are a top choice for retro-looking slots casino games, which is why our number 4 pick is in keeping with the fruit machine vibe set by Burning Wins at number 5. The graphics are updated slightly and aren't as faithful to the classic style as Burning Wins is, but that helps to give the game its own identity, and speaks volumes to the talent of the designers behind these games. First up, the details: 3 reels, 3 rows, 5 paylines, betting range: min 5p, max £25 and RTP 96.13%. Thunder Reels Slots Casino obvious from the numbers Playson have stayed super-traditional. The betting range is something you'd certainly find in a traditional pub slot machine. If you're looking for huge maximum bets then this isn't for you. And again, there isn't a huge amount of bonus extras so really you're relying on your skill as a slot player. If you are more of a high-roller you have the option to gamble your winnings and if you hold your nerve you could be in for 4x your jackpot, which is pretty tasty. And you'll occasionally be surprised by a multiplier so there are little treats here and there if you wait the game out!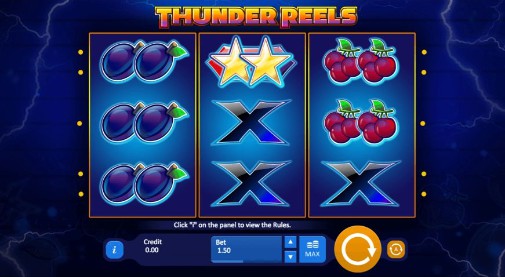 Book of Gold: Double Chance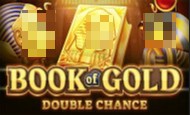 Every fancied yourself a time traveller? Well, Playson have you covered. Out of all the developers out there, they really love their history-themed online slots. So this was a really tough one to choose. But, in at number 3 comes, Book of Gold: Double Chance Casino Slot, which takes place in a cavernous Egyptian temple, dramatically lit by flickering candle light, promising to reveal treasures from thousands of years gone by. How do the number stack up? Let's take a look: 5 reels, 3 rows, 10 paylines, play from 20p to £75 per spin and RTP 95.04%. There's loads we could say about this, now legendary game, but we want to focus on a few of the highlights. First, the volatility; it's sky high so you'll benefit from nice big payouts. There's free spins and expanding symbols so that makes for even bigger wins if you're patient. If you land the scatter - the book of gold symbol itself - you can win 200 x your stake so keep a keen eye out on that! This is a gorgeous looking, moody and atmospheric game that, if you're smart, can reward you with up to 4067 times your stake. Enter the ancient temple and be blessed with wins a-plenty!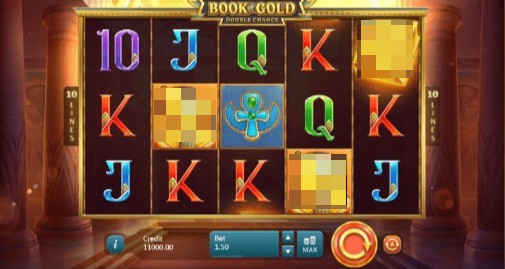 Super Burning Wins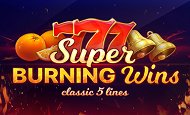 It's the super-fied version of our number 5 entry! Super Burning Wins Slots Casino is another classic fruity-style slot casino game and comes in at number 2. Super colourful, bright music and fast-paced base gameplay give this one an edge over almost any other fruit machine inspired slot. But first, details time: 3 reels, 3 rows, 5 paylines, betting range 10p - £100 and RTP 96.27%. Fire is the theme once again and you'll see all your favourite fruit machine graphics burning up and turning into coins for you to stack up your winnings with! The gameplay is simple and fast-paced, all you have to do to win a spin is match 3 symbols on a payline so you can play fast and furious on this particular fruity! And it really is all about the fruit, nabbing you anywhere up to 7x your stake when you match fruit symbols. The classic BAR symbol gets you 10x your bet and that fiery bell grants you a whopping 50x your bet. It's simple, it's fast and it's furious and a well worthy number 2 in our top 5 countdown!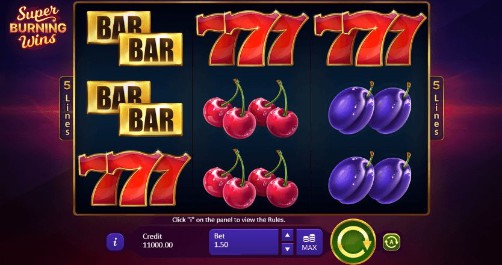 Legends of Cleopatra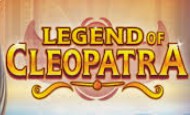 It's the moment we've all been waiting for… the number 1 game in our countdown of the best 5 Playson online slots. And that title goes to another Egyptian themed romp - Legends of Cleopatra Casino Slot. Now, the most famous Queen of the Nile doesn't need anything to secure her as one of history's great legends. But Playson have worked hard to give this game something really special. Before we dive into exactly what makes this game so special, let's look at the fine print: 6 reels, Multiple rows (we'll get to that later!), 100 paylines (wow!), play from 20p to £100 per spin and RTP 95.05%. Those are pretty impressive figures, right? So what makes this game so special? Well, that mysterious 'multiple rows' is where it all gets interesting. The layout of the rows is actually 2x3x3x4x5x5. Yep, you read that right! And we don't think there's any mistake in the fact that the rows combine to create an almost pyramid shape. And it's this marriage of form and theme that we just love about this game! And of course there's some bonuses!  There's a double wild reel so you can max up those winnings when you spin this one, stacked wilds and of course a free spins round, where you can get anywhere up to 15 free spins. Couple that with your 100 paylines and the medium volatility, you'll be worshipping at this queen's throne for many years to come!